The online world, and working in an online space, can be quite tricky although, luckily for us, over the years there have been platforms such as Slack and Asana that have changed up the online communication space, making it much easier to communicate with your fellow workers wherever they may be.
It looks like Google is set to take on the challenge of the workspace environment thanks to their latest overhaul of Google Hangouts, which hopes to make Google the ultimate work chat service.
The Hangouts experience will soon be changing into two different spaces: Hangouts Meet and Hangouts Chat.
Hangouts Meet is Google's take on video conferencing, and hopes to make connectivity seamless. You will be able to join a video call from a Google Calendar invite, or via a shared link, so you will no longer have to be logging in and out of accounts in order to get the right account in the right place.
Up to 30 people will be able to join in on the video call and a new, lighter interface should have presentations run more easily. Since this is Google (and connects to the "G Suite"), any details you note in your calendar during the meeting get automatically ported over, which is a nice function as well.
G Suite Enterprise members will also be given a dedicated dial-in phone number when using Meet, which should make them easier to connect to.
Hangouts Meet is already beginning to roll out to users of G Suite, and will be coming to customers within the next few weeks.
As for Hangouts Chat, the overhaul now makes the application look a lot more like Slack than  previous iterations and there has been the addition of rooms, threaded conversations as well as G Suite integration to improve the service.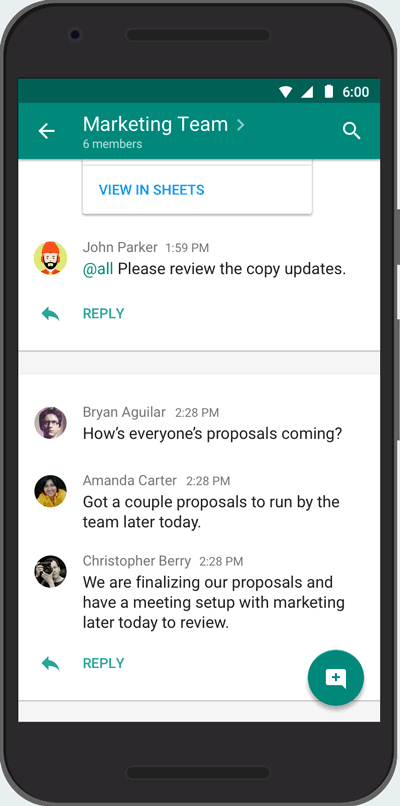 These additions  allow content from Drive, Docs and the photos and videos you share to be viewed within the chat stream, as well as the ability to search, go back in the conversation history and find what you're looking for.
Like Slack, it also comes with its own bot as well and the ability to integrate third party applications, which will give access to further services. Google's version of that bot is simply called @meet, who is a pretty smart thing, and is able to set up meetings for your via Meet and Google Calendar.
Hangouts Chat is currently available to those in the Early Adopter Program via a closed beta and, according to Google, is expected to stay in beta for a while – an exact roll-out date has yet to be announced.
For many of us that have and use multiple Gmail and Google accounts this could be a huge step forward in organising and integrating all these areas, so it will be interesting to see how the overhaul changes things over the next few months, before it is launched to the world.